Enhance your existing
Customer Assistance Programs!
Each year up to 48 million low-income customers living at or below the poverty line cannot afford to pay their energy bills, resulting in billions of dollars in revenue losses, as well as additional costs for service disconnections. Customers expect utilities to engage them with the latest technology while providing innovative web and mobile apps to suit their needs. Gridmates is an enterprise software company that helps utilities enhance the existing Customer Assistance Programs (CAPs) and become a leader in customer care. Gridmates will help you engage customers and improve the lives of your customers.
How it works
Efficiently manage programs and reduce delinquent accounts
Categorize programs and accounts by time, location, type such as veterans, single mothers, fixed-income, etc.
Track analytics in your cloud-based dashboard
Offer your customers energy gift cards to give away as desired
Become a leader in impactful innovation and customer care
Your customers control their energy giving
Choose to donate for energy to a category of people (like veterans, single mothers, zipcodes, etc.), to a nonprofit or a person in need
Select a dollar or energy amount to donate and see the immediate impact automatically calculated
Receive awards and energy saving tips to help them save in their bill
Create their own grid of people to support every month
Benefits
Help your customers in need pay their bills on time
Reduce financial risks from unpaid bills
Make energy donations your differentiator
Automatically track analytics and demographics in your dashboard to determine priority needs
Improve customer satisfaction and social responsibility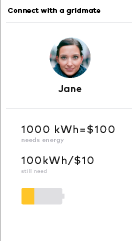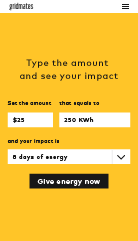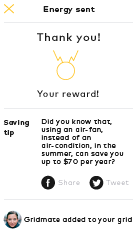 Steve Adler
Mayor of Austin
Companies like Gridmates help make Austin the special place it is. Our city is a breeding ground for visionary, new companies developing products and services to create a better world.
Let's get started! Please provide your details
below and one of our customer support team
will get back to you within 24 hours

&nbsp Gridmates is a Gold Oracle partner.