Raise fund for your organization's or your constituents energy bills.
48 million people in the United States cannot afford to pay for heating, cooling, lighting, cooking, washing, etc. Nonprofit organizations spend their limited funds to pay for energy bills. Use Gridmates as a fundraising platform for your energy.
How it works
Define and set your fundraising goals
Inform your network of people
Start raising and managing your energy fundraising in your own gridmates dashboard.
Great benefits for you
Raise funds that will help you cover your organization's or your constituents energy needs
Watch the analytics of your fundraising campaign in your own dashboard.
Increase the number of donors and engage new donors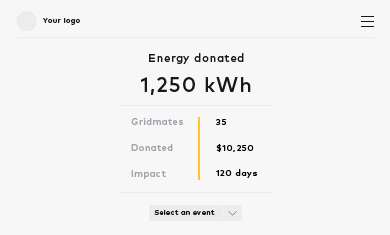 Alan Graham
President of Mobile Loaves & Fishes
Gridmates has a halo effect by bringing in more corporate and nonprofit partners - getting more folks to dive in and work with us. This alone is very powerful and will have a profound impact.
Let's get started! Please provide your details below and one of our customer support team will get back to you within 24 hours